Ukraine war: Mass exhumations at Izyum forest graves site
By Orla Guerin
BBC News, Izyum, Ukraine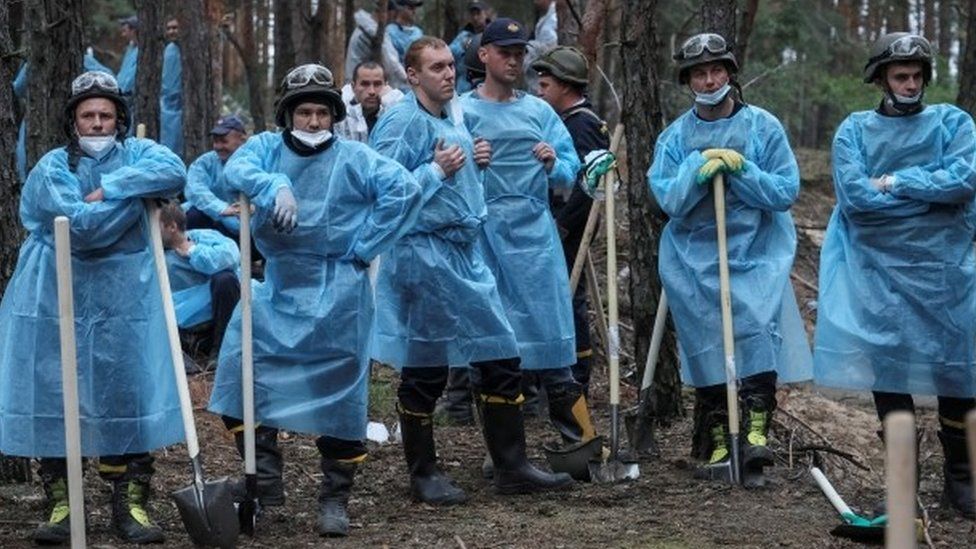 In a pine forest at the edge of Izyum the stench of death filled the air as a mass exhumation got under way.
The earth is giving up its secrets. Ukrainian officials believe war crimes have been committed, which they are determined to document.
Around 100 Ukrainian emergency service workers wearing blue plastic coverings dug into the earth, opening makeshift graves.
They are trying to establish the cause of death of hundreds of people buried in a forest at the edge of the city, recently liberated by advancing Ukrainian forces.
Izyum, invaded in April, was used by Russia as a key military hub to supply its forces from the east.
The exhumation was conducted mostly in silence, as police and prosecutors looked on. One officer put his head in his hands. Another walked away.
Kharkiv regional prosecutor Olexander Ilyenkov says there is no doubt war crimes have been committed here.
"In the first grave, there is a civilian who has a rope over her neck. So we see the traces of torture," he told the BBC.
He said almost everyone died because of Russian soldiers.
"Some of them were killed, some were tortured, some were killed because of Russian Federation air and artillery strikes."
Ukraine was determined to show this disturbing sight to the world. Convoys of international journalists were brought to watch on.
The burial ground – beside an existing cemetery – contains row after row of graves, marked by crude wooden crosses.
Names were written on a few, but most were marked only by a number. The burials here were carried out under the orders of the Russians when they were in control.
Ukrainian police say there are 445 new graves at the site, but some contain more than one body. It's unclear how all of them died. Many are said to be civilians, women and children among them.
Prosecutors say some were killed by Russian shelling and others were victims of a Russian airstrike on an apartment block in March, in which 47 people were killed.
Officials say one grave contained around 20 soldiers, some with their hands bound and one with a noose around his neck. The body of a man in military uniform was exhumed and zipped into a white body bag.
As the graves were opened there were sporadic explosions in the distance as the security forces worked to de-mine the area.
72-year-old Hryhorii came to the burial site today to see the grave of his wife, Ludmilla. He told us she was killed on 7 March during heavy shelling in Izyum.
He first had to bury her in the yard of their home, then she was reburied in August. Now her remains will be disturbed once again.
It's only now, since the Russians have been pushed out, that Ukraine can carry out detailed investigations here, and can determine how many victims the occupiers left behind.
A woman who lived opposite the forest told us Russians troops had kept locals away from the cemetery.
A local man named Maxim appeared at the burial site, asking journalists to record his account of torture.
He said he was detained by the Russians in early September, and released by Ukrainian forces when they arrived in Izyum last Saturday (10 September).
He showed us the marks on his wrists caused by handcuffs, and said he had been subjected to electric shocks.
A senior advisor to Ukraine's President Volodymyr Zelensky told the BBC evidence of torture was found in some areas recently retaken by Ukrainian forces.
"We saw wildly frightened people who were kept without light, without food, without water, and without the right to justice," Mykhailo Podolyak said.
Kharkiv prosecutor Mr Ilyenkov said several similar burial sites had been found in areas recently retaken by Ukrainian forces.
War in Ukraine: More coverage
Affiliate disclosure: The links contained in this product review may result in a small commission if you opt to purchase the product recommended at no additional cost to you. This goes towards supporting our research and editorial team and please know we only recommend high quality products. Disclaimer: Please understand that any advice or guidelines revealed here are not even remotely a substitute for sound medical advice from a licensed healthcare provider. Make sure to consult with a professional physician before making any purchasing decision if you use medications or have concerns following the review details shared above. Individual results may vary as the statements made regarding these products have not been evaluated by the Food and Drug Administration. The efficacy of these products has not been confirmed by FDA-approved research. These products are not intended to diagnose, treat, cure or prevent any disease.