Raymond Dearie: Special master named to oversee Donald Trump Florida files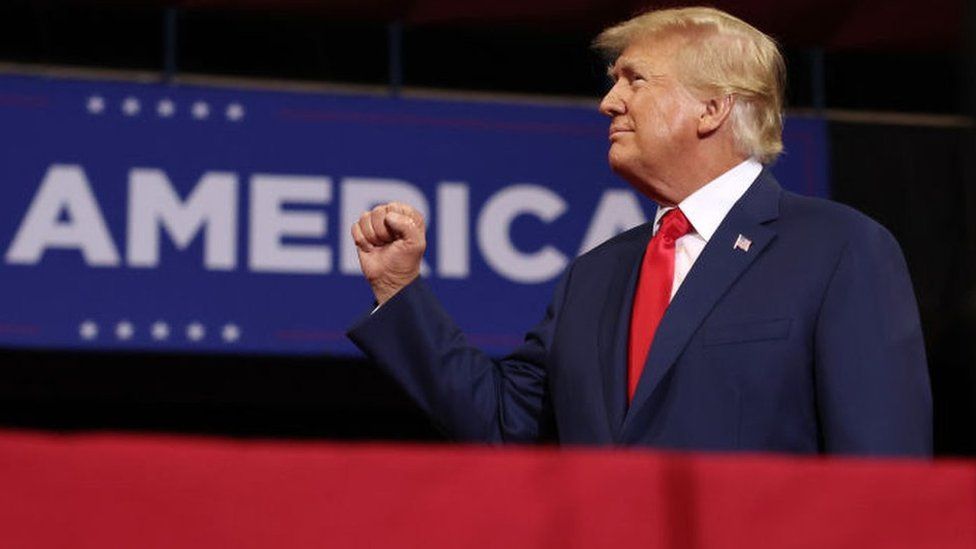 US federal judge Raymond Dearie has been chosen to review the files seized in the FBI's search of former US President Donald Trump's Florida home.
Mr Dearie, 78, will be "special master" and decide whether any documents are off limits in any legal proceedings.
He had been proposed by Mr Trump's team and the US Department of Justice previously said it did not object.
The former US president is being investigated for his handling of classified materials.
Department of Justice officials previously said that documents stored at Mr Trump's Florida home were likely to have been concealed as part of an effort to obstruct an FBI investigation.
The authorities say these documents should have been handed over to the National Archives – which US presidents are legally obliged to do upon leaving office.
The request for a special master – an independent lawyer who decides if any of the records are covered by attorney-client or executive privilege – was made by Mr Trump's team.
Earlier this month, a judge granted Mr Trump's request – and banned the US government from reviewing or using the seized materials for its investigation until the special master's independent review has been completed.
On Thursday, US federal Judge Aileen Cannon appointed Mr Dearie and also ruled that the Department of Justice was not allowed to resume the files review.
The department had earlier said it would take the case to an appeals court if Judge Cannon ruled against their request.
It means the justice department's ongoing criminal investigation will now be slowed down because the government cannot review or seize materials for its investigation until the special master's review has been completed.
The Department of Justice resisted Mr Trump's request saying that any presidential records seized in the FBI's 8 August search of Mar-A-Lago "belong to the United States, not to the former president".
It is not clear how long the special master's review will take.
Mr Trump's lawyers have argued some of the documents are covered by attorney-client privilege – a part of US law that allows people to keep conversations with their lawyers private.
His legal team have also claimed "executive privilege" over the documents, which allows presidents to keep certain communications under wraps.
However, some legal experts argue that these moves are merely a tactic to delay proceedings – since the documents have already been looked at.
Trump records probe timeline
January 2022 – The National Archives retrieves 15 boxes of White House records from Mar-a-Lago, and says some of the documents it received at the end of Trump administration had been torn up
February – Reports emerge that classified files were found in the Mar-a-Lago cache and National Archives has asked DoJ to investigate
April – US media report the FBI has begun a preliminary investigation
3 June – A senior DoJ official and three FBI agents travel to Mar-a-Lago to review items in a basement. According to Mr Trump, he told them: "Whatever you need, just let us know"
8 June – Federal investigators write to a Trump aide to ask that a stronger lock be used to secure the room storing the items. Trump says that request was quickly fulfilled
22 June – The Trump Organization receives a DoJ summons for CCTV footage from Mar-a-Lago
8 August – Dozens of agents search Mar-a-Lago, seizing more than 33 boxes, some containing top secret files, according to the warrant
12 August – Warrant released, showing that 11 sets of classified documents were taken
25 August – Judge orders justice department to release a redacted version of court papers that convinced him to authorise a search of the Trump estate
5 September – Judge grants Mr Trump's demand for a "special master" to oversee the case into his handling of classified materials
Affiliate disclosure: The links contained in this product review may result in a small commission if you opt to purchase the product recommended at no additional cost to you. This goes towards supporting our research and editorial team and please know we only recommend high quality products. Disclaimer: Please understand that any advice or guidelines revealed here are not even remotely a substitute for sound medical advice from a licensed healthcare provider. Make sure to consult with a professional physician before making any purchasing decision if you use medications or have concerns following the review details shared above. Individual results may vary as the statements made regarding these products have not been evaluated by the Food and Drug Administration. The efficacy of these products has not been confirmed by FDA-approved research. These products are not intended to diagnose, treat, cure or prevent any disease.