Nova Scotia shooting: Gunman's partner describes night of terror
By Jessica Murphy
BBC News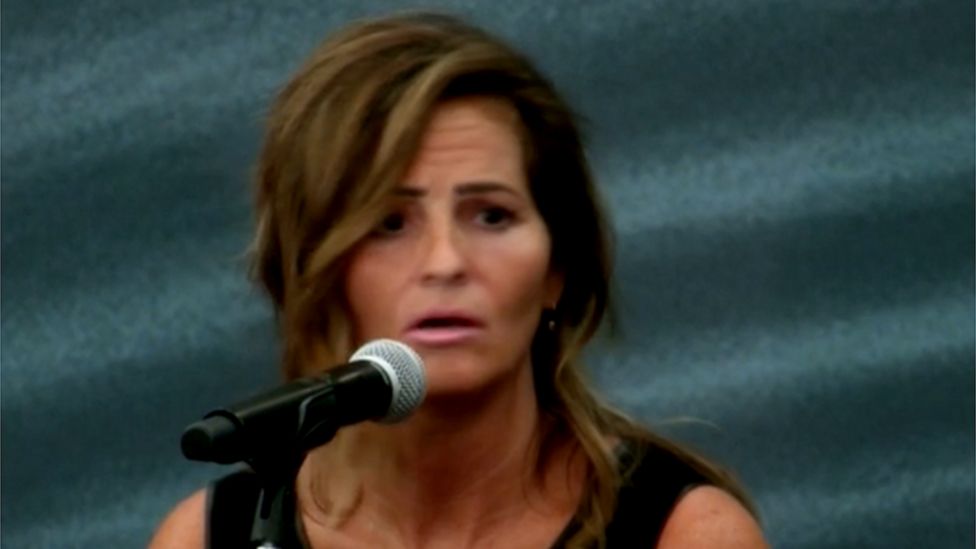 The common-law partner of the gunman behind Canada's worst mass shooting has said she feared for her life.
Lisa Banfield, 53, testified before a joint federal and provincial inquiry looking into the April 2020 shooting.
The inquiry was launched a few months after the shooting amid fierce criticism of the police response.
Ms Banfield was hiding from the gunman in the woods when he began a 13-hour rampage that left 22 people dead.
ADVISORY: This story contains graphic details of domestic violence, assault and murder.
The inquiry has been investigating what happened when Gabriel Wortman, a 51-year-old dental technician, went on a shooting spree across some 100km (62 miles) of the Nova Scotian countryside over two days in April 2020.
Public hearings began in February this year.
As the first target of the gunman's violence on the initial day of the attack, 18 April, Ms Banfield's testimony helped fill in key details about the first night of the attack, as well as his state of mind in the days and weeks prior.
Flanked by her two sisters, she tearfully recounted on Friday how the gunman would hit her, punch her and threaten her life. She said she did not report his illegal weapons to police because she feared for her life. She also said he had threatened to kill her family.
"He… put the gun to my head to scare me. He'd say the he could blow off my head. So I was scared," she said.
She was severely beaten by the gunman and physically restrained the first night of the attack after an argument with him. The attack left her with bruises and fractured ribs and vertebrae.
He dragged her into his decommissioned police cruiser, but she was able to escape and fled into the woods, where she hid throughout the night in the hollow of a tree, only emerging in daylight.
She said that she had no idea that he intended to hurt others – she thought he only wanted to hurt her and her family.
"I often think would any of those people have died? So that is something that haunts me all the time," she said.
Throughout the night, she heard the sounds of gunshots and saw flames coming from nearby homes. She said that at one point she wanted to check to see if people were OK, but she was "so scared I didn't want to move".
Many of the gunman's victims were people he knew. Some of them, she said, he had had disagreements with, but he had appeared friendly with some of his victims as well.
They had socialised with Sean McLeod and Alanna Jenkins, who lived nearby, she said. McLeod even gave the gunman a present of some lobsters for his birthday party, because he couldn't attend himself.
Families of the victims have been calling for Ms Banfield to testify, though many are frustrated that she won't face direct questions from their lawyers, a restriction put in place because she is a "survivor of the perpetrator's violence".
Ms Banfield was with the killer for 19 years, and during that relationship he subjected her to a "coercive control and abuse that included verbal abuse, psychological intimidation, financial control, and physical violence", the inquiry said.
Ms Banfield has cooperated with police and spoke five times with the inquiry before her public testimony, including to re-enact events on the night of 18 April.
In interviews released by the inquiry this week, she describes a partner who could fly into a rage over small slights, and who twice put a gun to her head during arguments.
She also described the gunman as becoming "agitated and paranoid" in the early weeks of the Covid pandemic.
Police had initially charged her and two others with unwittingly helping provide the killer with the guns and ammunition but the case was later referred to restorative justice, meaning the charge will be dropped after she completes a government programme.
The move cleared her to testify to the inquiry.
In recent days, the inquiry has released information documenting the gunman's history of intimidating, violent, abusive and sexually predatory behaviour.
It has also documented a background of domestic abuse, one which spanned generations. The gunman's uncle described a great-grandfather as "a tyrant who brutalised his family" and a grandfather who was "seriously off centre".
With additional reporting from Robin Levinson King
Affiliate disclosure: The links contained in this product review may result in a small commission if you opt to purchase the product recommended at no additional cost to you. This goes towards supporting our research and editorial team and please know we only recommend high quality products. Disclaimer: Please understand that any advice or guidelines revealed here are not even remotely a substitute for sound medical advice from a licensed healthcare provider. Make sure to consult with a professional physician before making any purchasing decision if you use medications or have concerns following the review details shared above. Individual results may vary as the statements made regarding these products have not been evaluated by the Food and Drug Administration. The efficacy of these products has not been confirmed by FDA-approved research. These products are not intended to diagnose, treat, cure or prevent any disease.