Bigger breakfasts better for controlling appetite, study suggests
By James Gallagher
Health and science correspondent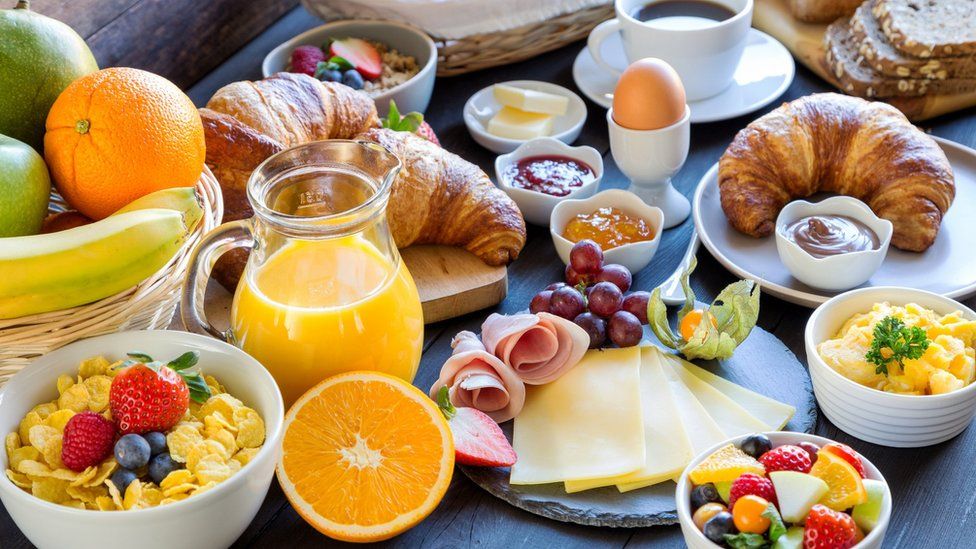 Eating a big breakfast and a smaller dinner could aid weight loss by making you feel less hungry, say researchers.
Scientists precisely controlled people's meals to compare the impact of a large breakfast or a large dinner.
The University of Aberdeen team found people burned the same calories whenever they had their biggest meal of the day.
But appetite was noticeably smaller after big breakfasts, which could make it easier to stick to a diet.
The researchers were investigating the world of "chrono-nutrition" and how the food we eat is affected by the rhythms of our body's internal clock. One idea is the evening is a bad time to eat, because the body clock shifts our metabolism towards sleep.
The 30 volunteers had all their meals prepared for them for more than two months with breakfast, lunch and dinner adding up to about 1,700 calories a day.
They spent one month having a huge breakfast using up nearly half their daily calories, followed by a smaller lunch and an even smaller evening meal. In the other month the volunteers had their big meal in the evening rather than the morning.
People's metabolism was precisely measured using doubly labelled water, which is denser than normal water and can be tracked as it leaves the body.
The results, published in the journal Cell Metabolism, found the timing of a big meal made no difference to how many calories were burned, to people's resting metabolic rate or the amount of weight they lost.
The key difference was to appetite or hunger levels, which were suppressed by the large breakfast.
Prof Alexandra Johnstone said that was likely to be crucial in the real world when the amount of food available was not being controlled.
She told me: "The studies suggest, for appetite control, the big breakfast was a winner.
"If you can start your day with a healthy big breakfast, you are more likely to maintain physical activity levels and maintain that control over appetite for the remainder of the day."
The breakfasts in the study included smoothies, yoghurts, eggs, sausages and mushrooms, and all contained plenty of protein which helps people feel full.
It is not clear why a bigger breakfast lowers appetite. The researchers say it is more complicated than having a full stomach in the morning and then sleeping when it is empty.
Prof Johnstone said there were ideas around the brain's appetite and reward systems being "more in tune for the first meal of the day" as it breaks the overnight fast.
However, the results are in contrast to most people's eating habits.
"People are trying to maximize their sleep and don't have time in the morning to either prepare or sit down and eat a larger meal, and therefore, by default, eat a larger evening meal," said Prof Johnstone.
The scientists are now investigating what happens when shift workers eat in the middle of the night, and trying to establish whether people should eat according to chronotype (whether they are naturally a morning or evening person).
Dr Duane Mellor, a dietitian at Aston University, said: "If you are thinking about changing your diet, think about times when you get hungry and may go for an extra snack.
"If that is in the morning, then having a bigger breakfast may help. Equally if you are an evening nibbler, having a more substantial evening meal instead and eating smaller meals in the day could help."
Affiliate disclosure: The links contained in this product review may result in a small commission if you opt to purchase the product recommended at no additional cost to you. This goes towards supporting our research and editorial team and please know we only recommend high quality products. Disclaimer: Please understand that any advice or guidelines revealed here are not even remotely a substitute for sound medical advice from a licensed healthcare provider. Make sure to consult with a professional physician before making any purchasing decision if you use medications or have concerns following the review details shared above. Individual results may vary as the statements made regarding these products have not been evaluated by the Food and Drug Administration. The efficacy of these products has not been confirmed by FDA-approved research. These products are not intended to diagnose, treat, cure or prevent any disease.